Kinetic Commerce News
June 18, 2018 | The Toronto Star
Shopify's Satish Kanwar says 'Hybrid' Retail Requires Brands to be Flexible
Retail Times Chat: Kinetic & Shopify Discuss the Opportunity of Connected ("Hybrid") Retail
Learn More
---
Apr 2, 2018 | The Toronto Star
Retail revolution in reverse: Online shopping goes in-store
Kinetic's David Dougherty talks to the Toronto Star about retailers bringing their online game into stores, and the efficiency of service powered by the Kinetic Commerce Platform.
Learn More
---
Mar 21, 2018 |
Kinetic Commerce appoints Retail/Ecommerce Veteran Damon Sloane as VP of Retail Innovation & Client Success
Kinetic Commerce is excited to announce the appointment of Retail/Ecommerce Veteran Damon Sloane as VP of Retail Innovation and Client Success. Sloane spent the last 4 years as GM of Ecommerce & Digital with global luxury fashion retailer Michael Kors (leading strategy and go-to-market launch of their ecommerce and omnichannel initiatives. During his time with Michael Kors, the company underwent a digital transformation that resulted with the brand being named a 'digital genius' by L2 Inc. Sloane's hire also highlights our commitment to Montreal's vibrant retail sector.
---
Mar 7, 2018 | Amber Mac
Amber Mac interviews Kinetic from DX3 Canada
Kinetic Commerce Co-Founder Chris Carder was Interviewed by the always awesome Amber Mac from the floor of DX3 Canada today (streamed out on Facebook Live). We talked about how Connected Stores are making a difference for physical retailers and what we're up to at Kinetic Commerce!
---
Mar 2, 2018 | Etail West
The Aldo Group wins Etail West 2018 Best In Class Omnichannel Retailer Leadership Award!
Another BIG AWARD for Aldo and Kinetic! Congratulations to everyone at The Aldo Group for winning the prestigious Etail West 2018 Best In Class Omnichannel Retailer Leadership Award! This award is for omni-retailers that use more than just their eCommerce site to drive and influence sales. 2018 finalists were Aldo, Crate and Barrel, Home Depot & Vitamin Shop - but it was Aldo that took home the hardware this week in Palm Springs. The Aldo Connected Store program continues to be a worldwide industry benchmark for retail innovation and transformation, featuring its leading Customer Experience, Associate Applications, Endless Shelves and multi-time award-winning Mobile Retail Application.
Learn More
---
Dec 22, 2017 | Betakit
Six Technology Trends Driving Seamless Retail in 2018
As we prepare for 2018 at Kinetic Commerce and Tenzing (two Canadian companies doing business globally in the e-commerce and in-store technology spaces) here are a few areas of intrigue and opportunities in retail.
Learn More
---
Mar 20, 2017 | Les Affaires
Aldo Group recognized as Nation's Best Omni-Channel Retailer @ eTail Canada
Kinetic Commerce is thrilled to congratulate our client, The Aldo Group - winners of The eTail Canada 2017 Best-In-Class Award - as the Nation's Best Omni-Channel Retailer.
Learn More
---
May 19, 2017 | Les Affaires
The solution to increase customer loyalty
"It helped us to understand how our customers are doing in relation to our products: where and how they find out what they are buying, what they like, what they would like to change, and so on. It is very important to carry out this analysis, because the idea is to provide added value to customers," emphasizes Alexandre Ratté.
La solution pour augmenter la loyauté du client
«Elle nous a aidé à décortiquer le parcours de nos clients par rapport à nos produits : où et comment ils s'informent, quel est leur comportement d'achat, ce qu'ils apprécient, ce qu'ils aimeraient changer, etc. C'est très important d'effectuer cette analyse, car l'idée est de procurer une valeur ajoutée aux clients», souligne Alexandre Ratté.
Learn More
---
Sept 28, 2016 | Financial Post
The endless retail shelf and smart mirrors: technology in store
Kinetic Café has been working on ways to help retailers transform into truly "omni-channel" operations, whose online and store operations are fully integrated and enhance one another.
Learn More
---
Aug 18, 2016 | Betakit
Toronto-based Kinetic Cafe launches Ecommerce platform at ALDO's World Trade Centre location
Using the platform powered by Kinetic Café, customers can use their smartphone to instantly check for availability based on size, colour and silhouettes, connect products in their hands to digital recommendations and request try-ons from sales associates.
Learn More
---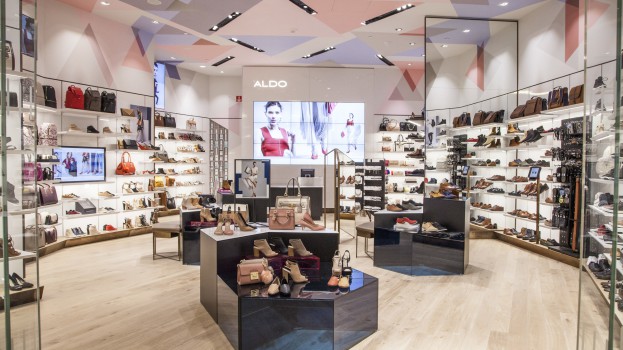 Aug 17, 2016 | Strategy Magazine
ALDO steps up its tech experience
Aldo has been working with Kinetic Cafe for the last two years on consumer research and insight into customer needs to develop the platform. Grégoire Baret, senior director of omnichannel experience at Aldo, says research revealed 16 consumer pain points related to things such as speed, product discovery and connection between different shopping platforms that the new experience store experience will address.
Learn More
---
Aug 17, 2016 | Marketing Magazine
ALDO introduces tech-focused retail concept to NYC
The new Aldo store fuses ecommerce with in-store shopping, removing barriers along the path to purchase by quickly providing shoppers with more and different kinds of product information directly to their mobile device.
Learn More
---
Aug 16, 2016 | FootwearNews
The 3 Coolest Features At ALDO's New Connected Store At Westfield World Trade Center
FN visited the screen-splashed store to test-drive all the digitally savvy ways Aldo is integrating technology into customer experience.
Learn More
---
Aug 16, 2016 | Mobile Syrup
Aldo launches World Trade Centre location designed by Canada's Kinetic Café
Today's launch at Westfield World Trade Center is the culmination of countless hours of passion and creativity by everyone at Kinetic and Aldo. It highlights the power of Kinetic's Retail Innovation Lab and the Kinetic Commerce Platform. There is no better place on earth to showcase what we've created together," said Kinetic President and CIO David Dougherty in a statement.
Learn More
---
Aug 16, 2016 | PR Newswire
Kinetic Cafe Launches KINETIC COMMERCE Alongside Aldo at Grand Opening of Westfield World Trade Center
With today's launch of its SaaS-based KINETIC COMMERCE technology platform the company is announcing it will now work directly with global retailers to translate the lab's groundbreaking prototypes and designs into full enterprise scale solutions across store portfolios.
Learn More
---
July 20, 2016 | Betakit
Indigo works with Toronto-based Kinetic Cafe to Create Social Platform for Book Lovers
"Everyone agrees the best book recommendations come from friends, but we all spend too much time reading reviews from strangers and trusting algorithms to tell us what to read next, often with mixed results. Reco solves this problem by bringing personal book recommendations from people you trust right to your mobile device," said Krishna Nikhil, Indigo's executive vice president of print and strategy in a statement."
Learn More
---